altra Walden Longboard Walden Megamagic SLX 9'0"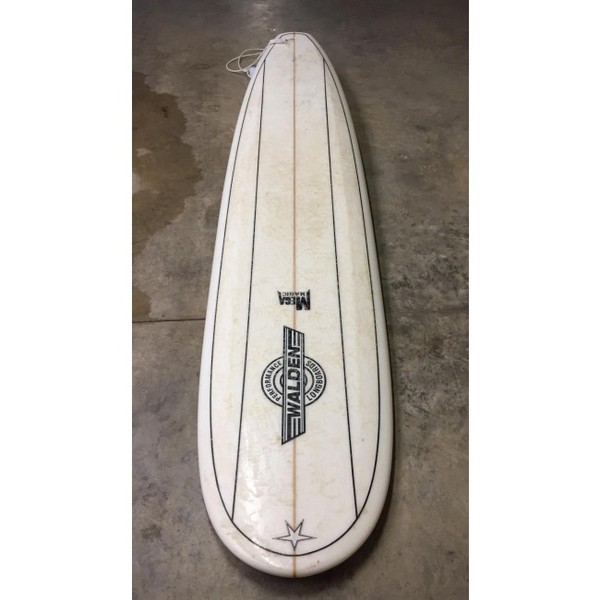 altra Walden Longboard Walden Megamagic SLX 9'0"
€ 799,00
Descrizione:
avola veramente perfetta, completa di sacca fcs top di gamma
The Mega Magic is our widest Magic with the most condensed volume. We take volume from the length and redistribute it to the width and thickness while maintaining our famous Magic performance. The Mega has the classic Magic elements: hard rails, concave bottom & lots of rocker. About 1/2" - 1" thicker and 1-2" wider than a standard board. The Mega Magic will float like a board that is 12-18" longer. For the bigger guy that normally rides a 10', with the Mega he can ride a 8'-9' without giving up float or stability. The Mega Magic has been a best seller since it was launched about four years ago. Our stock Mega Magics are made out of SLX
About GSI's SLX construction: SLX Epoxy produces a controlled flex pattern by combining the versatility of epoxy materials with the added advantage of reduced weight. All SLX boards have an EPS core with a high-grade timber stringer, which is laminated by hand using epoxy resign, biaxial fiberglass and a specialized construction process.
Featuring a high strength-to-weigh ratio, and designs CNC milled directly from the shapers files. SLX boards feel light, responsive and are very sensitive under your feet. These boards are extremely versatile, easy to ride, and can be used in wide variety of conditions
---
Inserzionista:
TwkcShop, Fonteblanda - italia
Inserzione numero
482549
Tel:
3473748218
Inserita il
30/05/2020 alle 00:00:00